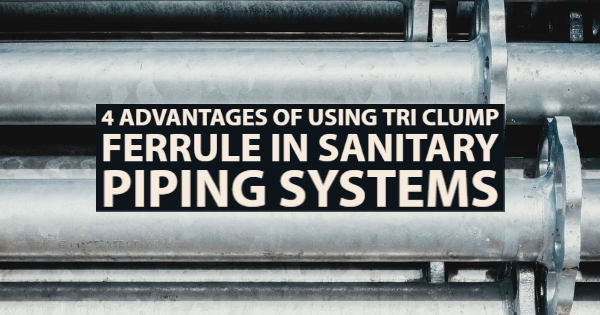 Food and beverage production require high standards of hygiene to ensure food safety. As such, manufacturers have to ensure that their production plants use stainless steel sanitary fittings. Food and beverage processing plants utilize stainless steel sanitary tubing, sanitary pipe fittings, and valves and tri clamp ferrule in different stages of food manufacturing. This includes during the harvesting, processing, and storage of the food and beverage products. Sanitary piping systems are complex and combine sanitary valves, tubing, and clamps in making a processing plant complete.
Combining all these sanitary fittings into one system is a complex procedure because they may not have the same size. As such, there is a need for tri clamp ferrules to help combine the different sanitary pipe fittings and valves so that there is no leakage. A tri clamp ferrule prevents food and beverage contamination by making sure there are no leaks in the many joints that a sanitary piping system will have.
Preventing food contamination is key in food and beverage production given that the products are made for human consumption. This makes the use of a tri clamp ferrule even more crucial because it reduces the risk of bacterial impurities finding their way into the sanitary piping system.
Benefits of using tri clump ferrule in a sanitary piping system
1. Enhances Efficiency of the Entire Piping System
Before the final food and beverage products are produced, they run through a complex sanitary piping system. The piping system utilizes many sanitary fittings and tubing that require to be connected with zero clearance for leakages. Sanitary ferrules make it possible to connect the many ends that a piping system will have without having leaks. Through welding ferrule, you can ensure that your sanitary processing system is intact and works perfectly in all the stages of manufacturing.
2. Tri Clump Ferrules Are Corrosion-Resistant
Tri clump ferrules are made of stainless steel, which is resistant to corrosion and rusting. This maintains the sanitary standards of the piping system because corrosive material is not suitable for food processing plants. The fact that they are made from stainless steel ensures that no chemical impurities can get into the food products during any stage of the manufacturing process. Additionally, stainless steel is long-lasting, which means that you will not have to replace the sanitary clamps for a long time. Stainless steel is also easily available, given that about 88% of the world's steel is recycled. This is according to the American Iron and Steel Institute, which also states that two out of three tons of new steel comes from old steel.
3. Tri Clamp Ferrules Are Non-Reactive
Stainless steel tri clamp fittings are non-reactive metals. This makes them suitable for usage in sanitary piping systems that manufacture acidic food products such as vinegar and citrus. Therefore, you will not have to worry about food contamination as the tri clamp ferrules will not react with the food products that you manufacture. This will also ensure that you abide by the strict guidelines from the U.S. Food and Drug Administration. The FDA requires all materials used in the food production process to be corrosion-resistant, non-reactive, and durable.
4. Tri Clamp Ferrules Have a Low Maintenance Cost
Just like other stainless steel products, tri clamp ferrules are easy to maintain through regular cleaning. Utilizing a tri clamp ferrule in your sanitary piping system will not call for special cleaning or maintenance. This helps keep the food and beverage production cost at a minimum, while also ensuring that the quality of food production is maintained.
Ultimately, the main advantage of utilizing tri clamp ferrules is to join two ends of pipes in a sanitary piping system without any leaks. Food and beverage manufacturing plants utilize complex sanitary piping systems that have numerous joints which must be attached flush and, as such, require tri clamp ferrules to keep the system running without any leaks in the joints.
Recent Posts
Sanitary stainless-steel tubing is the best tubing to use for facilities handling food and beverages …

While every industry should take the quality of their product or service seriously, it's not an opti …

Do you own a restaurant, brewery, or food processing plant? Then you know just know important sanita …