In a world filled with so much pollution and filth, it's almost refreshing to have things be...clean and hygienic. And while it's not necessarily healthy to be a germaphobe, a passion for sanitary, hygienic manufacturing process is necessary to bring safe, consumable products to market. Here at Chemseal, that's our passion. With our world's growing urban landscape and global population levels, the emphasis on delivering sanitary products is more pronounced than ever before.
Stainless Sanitary Fittings From Us To You
From the milk in your cereal bowl to your uncle's life-saving pharmaceutical prescription, Chemseal has an important role in safely and hygienically manufacturing these everyday consumable products. We carry genuine Trynox stainless steel sanitary valves, sanitary tubing, and a comprehensive range of other stainless sanitary fittings for a number of different industries. By ensuring that products are safely made and manufactured from raw materials all the way to the consumer, Chemseal is invested in the health and well-being of people all around the world.
Speaking of "around the world," let's take a look at some of the cleanest and most hygienic countries to visit (or live in) around the world. As always, if you have any questions about any of our sanitary stainless steel fittings, feel free to get in touch with us today.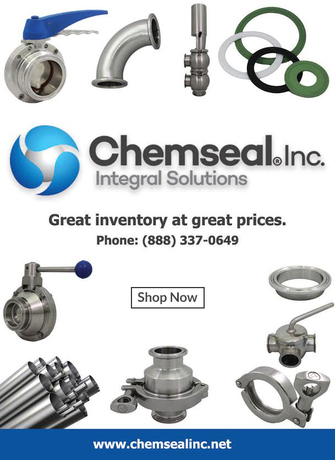 #10 - Columbia
According to the overall Environmental Performance Index, or EPI based on information from researchers at Yale and Columbia University, Columbia ranks with an EPI score of 76.8. Emerging in recent years as an ideal honeymoon destination thanks to its clean surroundings and clear waters, Columbia also hosts a wide range of biodiversity, coming in only second place to Brazil. Columbia is known to preserve the quality of its cropland by using the most sustainable methods, which in turn minimizes the use of harmful pesticides. Due to Columbia clean environment and massive biodiversity, the life expectancy runs at an average of 73 years.
#9 - Cuba
With an EPI score of 78.1, Cuba enjoys a favorable climate, blue beaches, lakes, colonial architecture and fairly high levels of cleanliness. One of the main reasons why Cuba is counted as one of the cleanest countries in the world is due to its forest conservation and controlled pollution levels. Though many people don't typically think of Cuba as a standard tourist destination, its worth considering if you're looking for somewhere new to visit.
#8 - France
Scoring only .1 higher than Cuba on the EPI score, France is surprisingly cleaner than a lot of people tend to give it credit for. This is largely because France tends to maintain an excellent environmental record. Indeed, France's administration system has put forth sensible forest and water policies, while also boasting high standards of sanitation. In terms of air pollution, ecosystem ozone and fisheries management, France does very well.
#7 - Mauritius
A small island nation located in the Indian Ocean, Mauritius is another fairly well-known honeymoon destination. Its sparse population does make it easier to maintain a pollution-free environment, but Mauritius also hosts a diverse range of flora and fauna. The local government has repeatedly made efforts to preserve and respect the natural biodiversity of this area, and reasons like these support Mauritius' EPI score of 80.6.
#6 - Norway
Rarely do you hear any bad things about Norway. With some of the lowest levels of airborne particulates in the world, Norway actually scores a perfect 100 when it comes to the quality of air, water, sanitation and ozone levels! Impressive. If that wasn't enough, Norway also generates its own hydropower that provides electricity to nearly 98 percent of the population. This European country has definitely earned their EPI score of 81.1.
#5 - Sweden
We'll admit, a jump from Norway's EPI score of 81.1 to Sweden's score of 86 is quite a leap. Though Sweden hosts a population of some 9.4 million people, it also hosts very low levels of air pollution, minimal greenhouse gas emissions and some of the cleanest, clearest drinking water on earth. With some of the most protective forest and greenery policies of any country, Sweden is a very clean place.
#4 - Costa Rica
Home to a huge variety of plant and animal life, Costa Rica enjoys an EPI score of 86.4, also scoring exceptionally well in the areas of air pollution, forestry and water quality. Striving to become carbon neutral by 2021, this popular tourist destination for Americans is an example that other South American countries should follow.
#3 - Switzerland
Switzerland seems to excel in just about everything, from financial services to war avoidance and environmental practices. When it comes to overall water quality and hygiene, Switzerland enjoys an EPI score of 89.1 - nearly 90. Of course, when you consider the fact that Switzerland's air and water are the cleanest in the world with some of the strictest environmental laws put into place, it makes sense.
#2 - Austria
Neighbors to Switzerland, this beautiful landscape takes environmentalism quite seriously. With an EPI score of 89.4, Austria's administration takes huge efforts to protect its marine life and forests while also preserve drinking water quality. Seriously, the lakes and rivers of Austria are maintained at "drinking water" quality - you don't even need to purify their water!
# 1- Iceland
Iceland dominates the EPI scorings at an impressive 93.5. A place all its own, Iceland is no doubt the world's cleanest country. Though this is arguably due to the country's modest population of some 320,000 people, Iceland's protected natural areas, geothermal energy solutions and wind energy all support their environmental efforts. With the cleanest air in the world, over 80 percent of Iceland's total energy consumption comes from hydro and geothermal sources. This makes Iceland the cleanest energy consumer in the world.
Trusted Stainless Steel Sanitary Fittings For The Job
Regardless of where your travels take you, know that Chemseal is the trusted supplier of sanitary valves, tubing and other stainless steel fittings. As experts in hygienic piping design, we're invested in the health and cleanliness of countless people around the world. Shop Chemseal today for DIN stainless steel fittings, SMS fittings, tri clamp fittings, and more.
Recent Posts
The kind of equipment, containers, or materials, which you use in the food industry for containeriza …

Whether you are a plant manager or engineer, you know that sanitary filters are an important part of …

Food and beverage production is part art and part science. Once you have created an excellent produc …