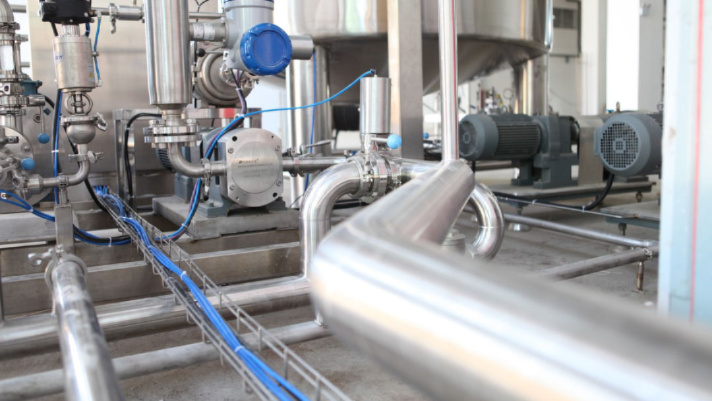 Stainless steel has a lot of useful benefits. For instance, grades 304 and 316 can withstand temperatures as high as 1700 degrees Fahrenheit, while grades 309(s) and 310(s) can withstand temps up to 2000 and 2100 degrees respectively. This is one reason why stainless steel components are highly valued throughout many industries. The stainless steel butterfly valve is no different.
Sanitary butterfly valves are put in place to regulate the flow of liquids. This is accomplished through the use of a metal disk located in the valve body that, when positioned perpendicular to the flow, can close off the valve. Likewise, rotating this disk a quarter, so that it aligns parallel to the flow, opens the valve allowing for the free flow of fluids. This disk can also be rotated intermediately to allow for a greater or lesser amount of flow, dependant on your specified needs.
Sanitary valves like this are often employed in the agriculture of wastewater management fields; however, many industries can make use of them. Sanitary butterfly valves are the most commonly available and well-trusted type of valves. This is due in large part to the variety of advantages that they offer when compared to other options on the market. To help you better understand, here is a breakdown of the greatest advantages they can offer.
Advantages of Sanitary Butterfly Valves


Key parts of the valves, including the rubber sealing and the valve plates, are imported. This helps to ensure their performance and prolong the service life of each valve.


Sanitary butterfly valves are also highly interchangeable, as all parts are generally lathed together with a high-precision CNC.


Nylon sleeves are also used in these valves to ensure an easier opening and closing process, in addition to a greater reduction of friction.


The sanitation level is also highly rated with these valves, as their stainless steel and rubber composition are aligned with food-grade standards. This allows them to be used with products that are sensitive to outside contamination.


Because the valve and pipeline share the same diameter, the flow is more streamlined when fully opened. This also helps prevent the adverse accumulation of materials in the valve and pipe respectively.


Sanitary butterfly valve handles are also able to withstand a higher level of torque, whether from wrenching or pulling, meaning there is a lower chance of breakage.


These valves are also highly adjustable and can be fixed at increments of 15 degrees between the ranges of 0 and 90 degrees. This allows a greater flow control when compared to other options.


They are easier to maintain than other valve types and typically feature detachable connections.


Sanitary butterfly valves undergo strenuous strength and sealing tests before they are sold to ensure they function optimally.



Sanitary butterfly valves can be found throughout many industries and knowing the advantages they can bring it isn't hard to see why. Between their reliability and range of control, they can help optimize operations while being easy to use and maintain. If your industry is in need of new valves, keep this option in mind and reach out to a manufacturer to learn what they can do for you.
Recent Posts
Sanitary strainers are crucial parts of your production process. The strainers filter out solid part …

Food and beverage production require high standards of hygiene to ensure food safety. As such, manuf …

Stainless steel is notable for its corrosion resistance. In fact, under typical conditions, stainles …