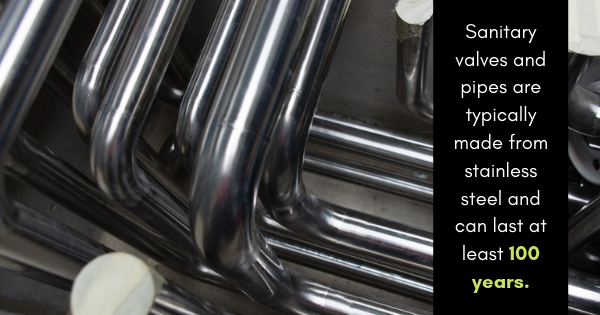 Some of the most popular uses of stainless steel include lab equipment, jet engine parts, and something crucial to every human being on this earth: food production. While there are many aspects that must be considered when producing the food we eat each day, safety is certainly one of the most vital. Fortunately, stainless steel can be used to support food safety measures at any production facility.
Stainless steel is known for its sanitary properties, making it one of the best metals to use during the food manufacturing process. One piece of equipment, in particular, that is used in multiple plants is the sanitary butterfly valve. A sanitary butterfly valve is an outstanding piece of equipment for your food manufacturing plant for many reasons. Continue reading to learn about the benefits of using one.
First off, who benefits from a sanitary butterfly valve?
Factory or plant workers can thank this modern and useful piece of equipment for making their jobs a little bit less strenuous. It helps get the manufacturing process done in a shorter amount of time, proving its efficiency time and time again.
However, the consumer can also benefit greatly from this stainless steel piece of machinery. Those who have food allergies or dietary restrictions, for example, can rest assured knowing that their food has not been contaminated with anything harmful to them.
The benefits of using a sanitary butterfly valve at your manufacturing plant
Now that you are aware who benefits from the stainless steel butterfly valve, here are the benefits of using one for production.
For one thing, these valves are easy to clean and maintain. Spending an excessive amount of time cleaning equipment can slow down production and cost plant managers and supervisors valuable money. The design of the valve is ingenious, and the material is easy to upkeep. These valves also provide the control you need to ensure both quality and safety. The sanitary valve comes with a clamp so you can manipulate the flow of the product, giving you authority and allowing you to streamline operations. And because it's adjustable, with an opening and closing range of 0 to 90 degrees, this gives the production worker complete customization for the specific job. Lastly, this piece of machinery is as reliable as they come. These parts undergo rigorous testing to ensure they're up for the job and suitable for the food production plant for years.
While stainless steel has many uses in a variety of different industries, quality food production and control is a necessity for every person no matter who they are or where they live. Equipment like the sanitary butterfly valve, a form of sanitary tubing, has a long list of properties, making it one of the most useful pieces of machinery out there. It's especially useful to those with food allergies and dietary restrictions. Yet, it's also a mechanism that allows factory and plant workers to do their jobs more effectively and efficiently.
Recent Posts
What do pharmaceutical manufacturers and food and beverage manufacturers have in common? They both r …

Sanitary conditions in any food and beverage processing are essential. Food processors use …

Sanitary butterfly valves are a family of valves that are also known as quarter-turn valves. When …