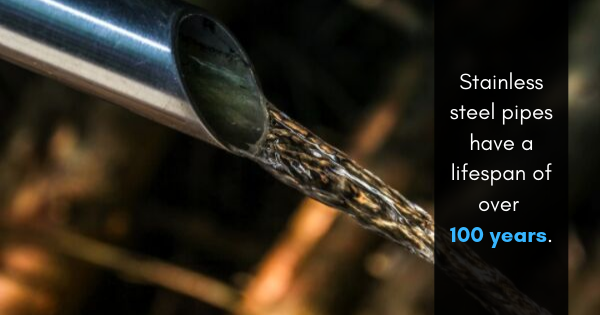 Stainless Steel for Sanitary Everything
When it comes to sanitary needs, stainless steel wins hands down. Sanitary valves, sanitary strainers, sanitary clamps, it doesn't really matter. In addition to being extremely sanitary, stainless steel is very durable. Stainless steel pipes have a lifespan of over 100 years.
Stainless steel is a term that actually refers to a variety of steel types. Although there are many different types of stainless steel, they all share the same "stainless" properties. Like all steel, stainless steel is made from iron and carbon in a two step process. It doesn't matter if it is for sanitary valves or something else, the first step is to molten raw pig iron and eliminate the impurities in it. Normal steel corrodes because iron, the main metal, oxidizes very easily, making it prone to corrosion and rusting.
When it comes to stainless steel, the addition of chromium is what changes the oxidation rate. Chromium oxide is created when chromium and steel react, which gives the corrosion resistant properties to stainless steel. This is one of the reasons stainless steel is great for sanitary valves and other sanitary items, because it does not corrode. There are also other elements that can be added to stainless steel to enhance different properties. These elements are what determine the different grades of stainless steel.
In addition to being resistant to corrosion, stainless steel has other properties that make it an excellent choice for sanitary products such as sanitary valves or pipes. Stainless is a very strong and durable material, relatively cheap, and it looks good. Additionally, stainless performs well both in very high and very low temperatures.
Traditional steel rusts and pits as it is exposed to oxygen over time. These pits create areas where product (food, bacteria, etc.) can be trapped. This causes normal steel to be a sanitary nightmare. Stainless steel, being corrosion resistant, doesn't form these same pits that cause food and other product to be trapped, making it significantly easier to clean and keep sanitary.
For sanitary stainless steel goods, take a look at our selection. We produce the highest quality sanitary fittings and pipes to ensure you have access to everything you need to properly manage your plant or facility.
Recent Posts
Sanitary conditions in any food and beverage processing are essential. Food processors use 3A sanita …

Sanitary butterfly valves are a family of valves that are also known as quarter-turn valves. When th …

Now more than ever, it's important that your small business runs as smoothly as possible. This is pa …